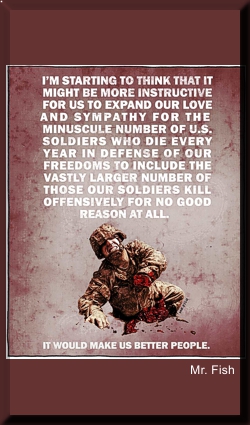 Countering the military in high schools: Read about COMD's successful lawsuit here.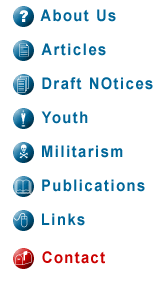 From Draft NOtices, October-December 2016
Female Draft Registration Still Looming
— Rick Jahnkow
Legislation that would require women to register for the draft was still uncertain as of our publication date [see following update]. The U.S. Senate's version of the National Defense Authorization Act (NDAA) for Fiscal Year 2017 contained such a requirement, while the House of Representatives' version did not.-Full Article
Does the Military Protect Our Freedom?
— Ray Wolf
"I'd like to thank our military personnel for defending our country and protecting our freedoms." In the wake of September 11, this is a common public acknowledgment from celebrities, politicians, myriad TV and radio commentaries, and many people on the streets of the United States. -Full Article
Support our troops" or "Deport our troops"?
— Isidro Ortiz, Ph.D.
"Support our troops" has been a popular slogan in many circles. As observers like Noam Chomsky have noted, it has been an effective public relations slogan in support of militarism even though it has little meaning and distracts from a critical focus on policies that lead to U.S. American men and women fighting in the Middle East and other regions of the world. -Full Article