From Draft NOtices, May - June, 2004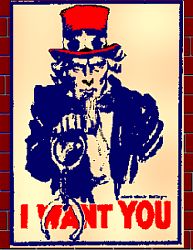 — Lorraine Demi
    
Apparently, deploying troops to Iraq, Afghanistan, South Korea and Europe simultaneously is beyond what the U.S. military can do. Yet they're doing it — by holding thousands of soldiers and reservists long past their release dates, against their will, with serious detriment to their health, careers, families and morale.

The Army has begun offering bonuses of up to $10,000 for soldiers in Iraq, Afghanistan and Kuwait who will re-enlist for more time in the military. At the same time, though, thousands of soldiers are not being allowed to retire or leave the military for up to 90 days after returning to their home bases. The Army has blocked 40,000 soldiers from leaving the ranks, with about 16,000 of those being National Guard and reservists who were eligible to leave this year. As of December 31, 2003, the Pentagon reported 187,746 National Guard and Reserve troops had been mobilized. Approximately 20% of U.S. troops initially sent to Iraq were reservists or Guard members. This number is expected to double soon. David Segal, director of the Center for Research on Military Organization at the University of Maryland, said, "We have stopped treating the reserves as a force in reserve. Our volunteer army is closer to being broken today than ever before in its 30-year history."


Read more: Held Against Their Will: U.S. Military and Reservists