From Draft NOtices, October-December 2016

— Ray Wolf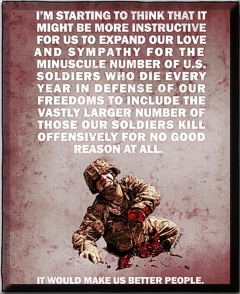 [Editors' note: Football quarterback Colin Kaepernick's refusal to stand when the national anthem is played at football games has intensified the debate over racial injustice in the U.S. Many have responded positively to his message, but others have claimed that his method of protest is disrespectful of members of the military who, they argue, are the ones who guarantee our freedom to protest. We don't see how Colin's actions are disrespectful of military members, but even more troubling to us is the frequent assertion that the U.S. military is the protector of our freedom. Because this is such a powerful mythology, we decided to reprint this 2003 article from Draft NOtices.]

"I'd like to thank our military personnel for defending our country and protecting our freedoms." In the wake of September 11, this is a common public acknowledgment from celebrities, politicians, myriad TV and radio commentaries, and many people on the streets of the United States.

As a Navy veteran, whenever I hear statements like these, I think, "What are they talking about? Since when does the military have anything to do with freedom?" If I make this statement out loud, I'm often told that the military protects my right to criticize the U.S. government and the military. I use such circumstances as an opportunity to educate people who believe that the military protects our freedoms. Here is one blueprint I've used successfully in conversations with friends, family and even strangers to shift the conversation.

History is a powerful place to begin, and many people know little about how the U.S. government has repeatedly used its military against its own citizens. In 1877, for example, railroad workers went on strike to protest pay cuts, profiteering by the railroads, and unsafe working conditions that led to injury, dismemberment, and death. The U.S. Army was deployed to crush the union strikers. Collusion played a major role, since the railroads loaned the U.S. government the money to pay the Army officers (but not the enlisted men). What this means is that the Army was protecting the railroad barons' right to harm and exploit their workers. For those who might protest that this was a long time ago, it's important to point out that these early actions set the precedents for continued use of the military against U.S. citizens, and then proceed with the history lesson.