Bill Galvin and Maria Santelli

Hits: 322
From Draft NOtices, April-June 2016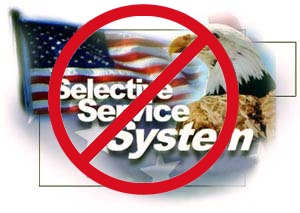 — Bill Galvin and Maria Santelli, Center on Conscience & War
    
With the combat restriction for women in the U.S. Armed Forces now lifted, discussion of draft registration is back in the news, the courts, and the halls of Congress. But the problems with Selective Service System (SSS) registration go much deeper than gender equality. There is little political interest in bringing back the draft. Yet draft registration remains a burden upon our nation's young men -- and now, potentially our young women, as well.

The extrajudicial penalties imposed upon those who choose not to or fail to register make life more difficult for many who already are marginalized, and they particularly target conscientious objectors who believe that registering with Selective Service is a form of participating in war. There is no opportunity to register as a conscientious objector. Legal protection for conscientious objectors was provided in the constitutions of several of the original colonies and was written into early drafts of what became the First and Second Amendments to the Bill of Rights of the U.S. Constitution (Lillian Schlissel, Conscience in America). Instead of honoring and upholding these freedoms and protections, modern lawmakers have subjected non-registrants to laws that deny education, employment and other fundamental opportunities. These laws amount to an unacceptable burden on those individuals who cannot, in good conscience, register, and in fact serve to punish and marginalize those who are living their lives true to the very essence of our democracy.

With the end of the Vietnam War in 1975, draft registration ended as well. In 1980 President Carter reinstated registration to send a message to the Soviet Union, which had just invaded Afghanistan, that the U.S. could be ready for war at any time. This remains the law of the land today: virtually all males residing in the U.S. and all male citizens between the ages of 18 and 26 are required to be registered with Selective Service.


Read more: It Is Time to Abolish Draft Registration and Restore Full Rights to People of Conscience