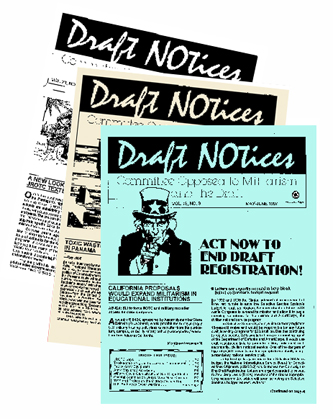 Draft NOtices is a quarterly newsletter that has been published continuously by COMD since 1980. Articles include news and analysis on topics like:
Racism, sexism and homophobia in the military

Key legislation

Military recruiting and Jr. ROTC

Grassroots organizing against militarism in schools

Conscription and draft registration

Military spending

War and the environment

U.S. military intervention
Sample articles are posted each issue on our web site. Complete issues of the newsletter are available in hardcopy only by mail*.


Articles in the July-September 2023 issue of Draft NOtices:
• Federal Legislation Seeks to Restrict High School Junior ROTC
• Ana Basaldua Ruiz: Another Tragedy at Fort Hood
• Teacher Education Programs Are Places to Challenge Militarism
• Counter-recruitment Booth at the Annual Chicano Park Day Celebration
• Protect Student Privacy: Student Opt-out Forms
Back Issues of Draft NOtices can be found in the digital collections of the University of Massachusetts Amherst Library. Visit: https://credo.library.umass.edu/search?q=draft+notices
*To receive Draft NOtices in the mail: Draft NOtices is a hardcopy newsletter delivered only to postal addresses. To request a subscription, simply send an email, along with your postal address (required), to contact[at]comdsd.org. If you wish to make a contribution to help cover the cost of DN, please send a check and use the coupon on the About Us page (unfortunately, we do not currently have a way to make a credit card donation).