From Draft NOtices, October - December 2014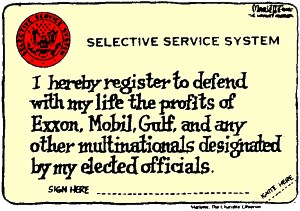 — Rick Jahnkow
    
Assembly Bill 2201, which would have prevented men from driving legally in California if they didn't register for a possible future military draft, died when it failed to survive the Senate Committee on Appropriations.

If it had passed, the California Department of Motor Vehicles (DMV) would have automatically registered male driver's license and driver's license renewal applicants with the Selective Service System (SSS). Selective Service is the federal agency that would draft men into the U.S. military if Congress ever voted to return to conscription.

After passing the California Assembly and the Senate Transportation Committee, AB 2201 was sent to the Senate Appropriations Committee, where on August 4 it was placed on the appropriations suspense file. It was never removed and sent to Senate floor and, therefore, missed the deadline for approving legislation.


The bill died in the suspense file because, according to Jim Lindburg of the Friends Committee on Legislation California, the Appropriations Committee chair was concerned about the mandatory nature of the proposal, as well as the possibility that it would conflict with another bill, AB 60, that had already been signed into law by the governor. AB 60 was adopted in order to make it possible to issue drivers' licenses to people regardless of their immigration status. In furtherance of that goal, AB 60 limits the DMV's ability to grant outsiders access to Social Security numbers, which Selective Service gathers when it registers men for the draft. AB 60 also prohibits the use of DMV records to investigate or detain people for possible immigration violations. Selective Service, however, shares its records with U.S. Customs and Immigration Services, which could use the information to prosecute undocumented immigrants.

This is the sixth time that Selective Service has tried to get this proposal through the California legislature. Each time it died after drawing opposition from a range of organizations, including groups that focus on privacy, civil liberties, war, and transportation funding. This year, a number of state and national immigrant rights groups joined the opposition and may have been a key factor in stopping the bill.

California has the largest number of individuals who have not complied with the draft registration requirement, which explains why Selective Service keeps trying to pass this bill. It's likely that the effort will continue unless and until Congress stops wasting federal funds on this dinosaur left over from the Cold War.

This article is from Draft NOtices, the newsletter of the Committee Opposed to Militarism and the Draft (http://www.comdsd.org/)