From Draft NOtices, January-March 2017

— Jesus Mendez Carbajal     

Please note: Given that updates and developments at/from Standing Rock and #NODAPL occur weekly if not daily, not all the history of the movement and details of the ongoing actions will be covered in this article.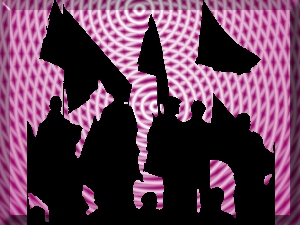 Humanity is facing difficult times on many different fronts. Many people are being exploited for their labor; the Earth's resources are being unsustainably extracted; war, death and forced migration are gripping many peoples around the world -- and, yet, there is still hope brewing for a better future for all of us.

One of the important and inspiring movements happening in the U.S. is the struggle against the Dakota Access Pipeline (DAPL) propelled by the Great Sioux Nation and many worldwide supporters.

Although the organizing in North Dakota began in 2014, the #NODAPL Movement gained increased visibility and support throughout 2016. On June 25, 2014, plans to construct the DAPL, a brainchild of Energy Transfer Partners (ETP), were first released but were not approved until January 2016. A few months later, Standing Rock Reservation Tribal Member Ladonna Allard Brave Bull donated land for the establishment of the Sacred Stone Camp in Cannonball, North Dakota. Since April 2016, the Standing Rock Sioux Tribe and the larger Great Sioux Nation of North Dakota, have received an outpouring of monetary, material and on-the-ground support from people from all walks of life who care about the collective wellbeing of humanity and the Earth. They include other Indigenous Nations (both federally recognized and otherwise) from all over the world united to fight against DAPL and protect a water supply that is threatened by the pipeline. "Water protectors," as the protesters like to be called, seek to preserve the health of the Missouri/Cannonball River, which the pipeline originally planned to traverse, but they also believe their work carries great symbolic weight because they are acting in defense of the most important element to human life and the natural world.

Late summer saw continued DAPL construction, accompanied by desecration of sacred sites. This was met by increased planned political demonstrations intended to keep up the pressure on DAPL and its construction. First-hand accounts of arrests made since August have revealed that water protectors were being routinely strip searched and held in makeshift jail cells resembling dog kennels--all of which was denied by the Morton County Sheriff's Office, the law enforcement agency coordinating the policing of the protests. Since August, tensions have been building with both sides putting forth strong efforts to move forward in their respective ways. Early September, during a non-violent action at a sacred burial site where bulldozers desecrated the land, a privately hired firm was present with vicious attack dogs, which ended up hurting many of the water protectors present at that action. Also in September, the governor of North Dakota, Jack Dalrymple ordered the National Guard mobilized to "protect" the DAPL, by extension protecting business interests.  Most recently, on December 4, 2016, the Army Corps of Engineers denied ETP the easement necessary for continued construction. In response, ETP and investors have made it clear that they plan to continue and finalize construction of the pipeline with or without the necessary legal permissions. The latest violent response to NODAPL Water Protectors occurred on December 27, 2016, during a peaceful prayerful action held at a sacred site.


Standing Rock Water Protectors have been met with armored military vehicles, automatic rifles, sonic weapons, concussion grenades, pepper spray, water cannons, attack dogs and more. It is abundantly clear from the escalating, militarized and repressive responses to the Water Protectors that law enforcement agencies and federal authorities are collaborating across the board to ensure the finalized construction of the DAPL. It is very sad to witness local, state and federal government protecting Big Oil and all those involved in the industry who are so blinded by the profit-making prospects of the DAPL that they are putting our collective well-being on the line.

With Donald Trump now in the White House, there is much uncertainty in the air not only around what will happen with Standing Rock and the Dakota Access Pipeline but also what will happen to the many calls for justice across the nation and the world. I am one of many who wonder if the increased repressive and militarized response to Standing Rock is a possible every-day reality we will see under a Trump administration. I wonder if the militarized responses to social change will only get worse in the coming years.

One lesson that has been reiterated by many social movements past and present, and which is relevant to all of us who support Standing Rock, is that we have to bring the essence of Standing Rock to our local communities, build solidarity, and strengthen inter-community relations wherever we find ourselves living, be it the U.S. South, urban areas, rural towns, Indian reservations, or economically segregated or increasingly gentrified neighborhoods. A second lesson that we can collectively apply to our movement building is that we must work across lines of race, gender, class, ability, privilege, oppression and sexuality, while facing the complexities that are inherent to each person, community and country in order to ensure our collective survival, not only through the incoming Trump administration but beyond that.

For more updates/information on Standing Rock please visit:
Sacred Stone Camp Website: http://sacredstonecamp.org/
Sacred Stone Camp DAPL Timeline: http://sacredstonecamp.org/dapl-timeline/
Slate.com Dakota Access Pipeline: http://www.slate.com/topics/d/dakota_access_pipeline.html
Censored News Blog: http://bsnorrell.blogspot.com

This article is from Draft NOtices, the newsletter of the Committee Opposed to Militarism and the Draft (http://www.comdsd.org/).